MP_pro_02 SHAME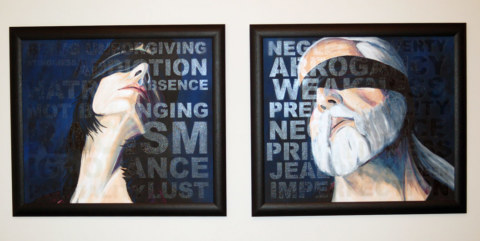 MP_pro_02 SCHAM_A
Neue Galerie Graz, Graz, Austria
in collaboration with: Ministry of culture Styria, CCN, ROTOR and TU Graz
group exhibition
19 November 2008 – 11 January 2009
conception: MP_art
curator: Günther Holler-Schuster
acknowledgement
MINISTRY OF CULTURE STYRIA
Mag. Christa Eisner
Christiane Kada

NEUE GALERIE GRAZ
Dr. Christa Steinle –director of the Neue Galerie Graz
Dr. Peter Weibel – museum adviser, artist
Mag. Günther Holler-Schuster – deputy director and curator of the exhibition
Niki Lackner – photos
Klemenz Maier – chief of technical staff
Kasimir Werschitz –technical staff
CULTUR CITY NETWORK [CCN]
Mag. Max Aufisher –director of the CCN
Mag. Gerhard Gross
Luise Grinschgl
ROTOR
Margarethe Makovec –director of the ROTOR
Christine Six
PARTICIPATED ARTISTS
Max Aufischer
Christian Eisenberger
Daniel Hafner
ILA
Marie Neugebauer
Valentin Ruhry
Edda Strobl
Eva Ursprung
Christine Winkler
Slobodan Kuzmanovic – sound for the performance and sound installation
Vanja Milinkov –video editing 
Vanja Kuzman – framing
Exhibition is the part of the project 'SHAME', realized in Neue Galerie Graz, Graz, Austria. Project realized in Austria called 'MP_pro_o2 SCHAM_A' contains exhibition, performance, video, video interviews and sound installation.
The basic idea and the goal of the project 'SHAME' is to clarify phenomenon of the 'shame' in different countries, cultures, religious surroundings and belief, social category, sexual, edge or gender orientation of people. Thinking and clarification of phenomenon of the shame could be by invited citizens (intellectuals, artists or ordinary people) and scholars (psychologists, sociologists, culturologists, theologists, art historian, and so on). Active and important partners in the project are local artists, citizens and institutions of culture (museums, galleries, university). Selected and invited artists are participates in the project by their art works in relation to the topic of 'shame'. There are free to use any media of expression (paintings, photography, video, installation, performance and others), to give their contribution from personal artistic point of wives. Other collaborators in the project (intellectuals and ordinary people) are interviewed and their considerations will be shows as video documentary.
Final product of the project will be the book 'SHAME' which can contain all documentary materials about all organized exhibitions with reproductions of all artistic works with related information and interviews of the citizens. In the book will be also all analytical texts by scholars, art historian, theoretic, etc., relating to the results of the analysis of the collected case materials.
Estimate time for realisation of the entire project is year 2012.