MP_per_19 SERBIAN CONTEMPORARY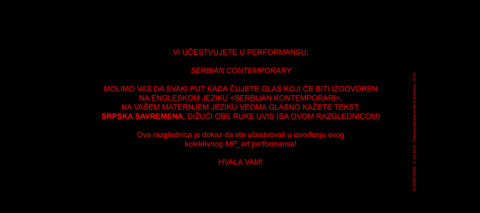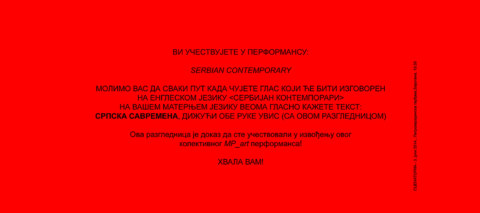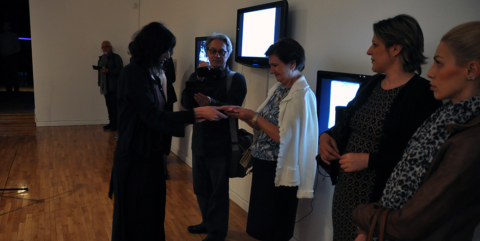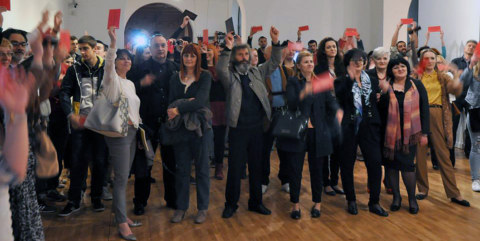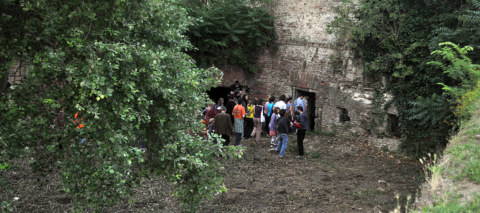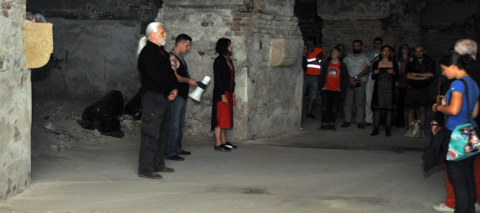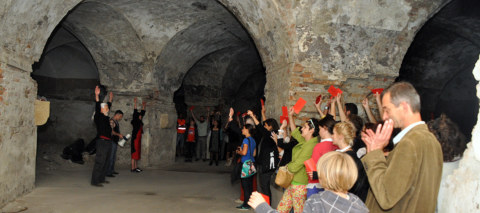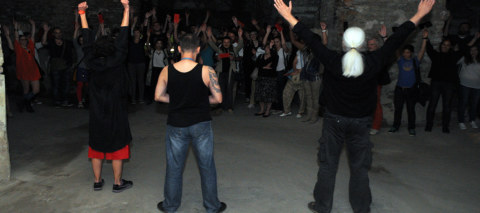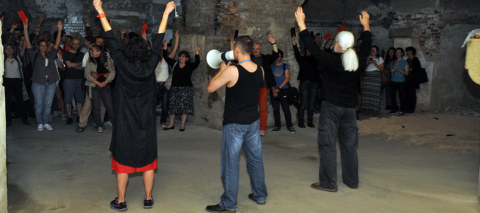 ARCHITECTURAL HERITAGE AS THE SCENE                         3 / 3 / 3      3rd July 2014 _ three performances _ three locations
Organization: SCENATORIA, Novi Sad
Location:  Petrovaradin Fortress, Novi Sad, Serbia
Performing groups:
– vulkåi (Ágnes Györe i Danijel Sivinjski, sound support Milana Bjelobaba) – railway tunnel, 7 p.m.
– MP_art (Maja Budzarov i Predrag Sidjanin, Nenad Kuzmanović )  – powder magazine Joseph, 7:30 p.m.
Duration: 12′
– KAP (Dusko Stamenic i Milena Pavlovic) – Prote Mihaldzica street, Petrovaradin, 8 p.m.
Photos: Miroslav Dajc
SERBIAN CONTEMPORATY is a interactive performance that was first performed in the Taiwan National Museum of Fine Arts in Taichung, Taiwan, during the exhibition  Subdued Existence: Serbian Contemporary Art Scene.
The performance took place in the old gunpowder magazine "Joseph", with no access to electrical energy, which is a poorly lit abandoned place. M and P were joined by a third member of the group Nenad Kuzmanović, who was speaking through a megaphone. Repeating "Serbian contemporary" in a ever increasing tempo. Every time the phrase was spoken M,P and the audience would raise their hands with postcards that had instructions written on them and exclaimed "srpska savremena" in their native language. The performance lasted until Nenad started repeating the phrase too fast for the audience to follow and total cacophony ensued, as his voice and the audience fell out of sync. This auditory cacophony, just like the abandoned and devastated storage, symbolically represent the reality of present day Serbia, which is on the way of total chaos…
This is the second performance of the series which the authors will implement in different environment (countries, cities) and in different languages.
Interview with Katarina Dajc (SCENATORIA), Radio Novi Sad, 4th July 2014 (Serbian):